Careers at Forestry Corporation
Each year, we produce and regrow enough timber to build a quarter of the new homes constructed in Australia, so why not branch out and start a career in an industry that's growing our future?
Join our team
We're looking for talented people who share our values and are passionate about achieving excellence. If this is you, view our current vacancies.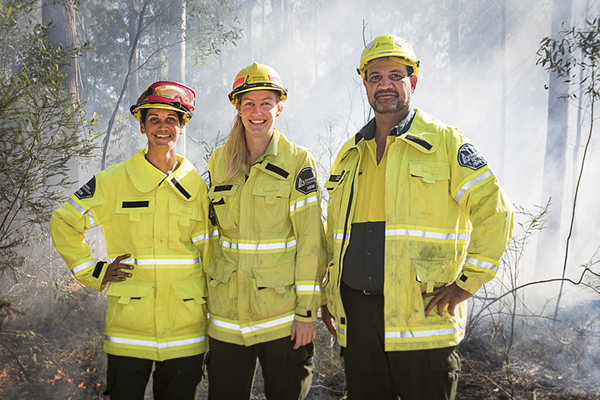 Several structured rotations within either our softwoods plantation or native forest divisions.
Opportunity to develop a long-term career in forestry.
520
Forestry Corporation
staff
22000
jobs in NSW wood
products industry
64000
jobs in Australia's wood
products industry
Working for us
A job with us comes with lifestyle benefits including flexible working arrangements and work in regional locations.
We also offer health and wellbeing support and ongoing career growth and development opportunities.
To thrive in our team, your values will align with our values of respect, innovation, integrity and wellbeing.
Meet our staff working across diverse roles.
Forest Learning
Learn all about forestry and associated industries by visiting the Forest Learning website, which includes educational tools and resources about forest management, forestry, timber and wood products for students in primary and secondary school and their teachers.
Learn more about forestry
Job opportunities
Graduate Program 2023 - *Applications now closed

Graduate Program 2022-23 – Grow your Future with us *Applications now closed Our two-year Graduate Program will consist of on-the-job learning, mento

Haulage & Sales Manager – Logistics

Forestry Corporation of NSW (FCNSW) is the largest manager of commercial plantation and native forests in NSW. We safely manage more than two million hectares of forests for the economi

Seasonal Forestry Worker – Bathurst

Forestry Corporation of NSW (FCNSW) is the largest manager of commercial plantation and native forests in NSW. We manage more than two million hectares of forests for the economic, environmental,

Roading Operator - Eden

Forestry Corporation of NSW (FCNSW) is the largest manager of commercial plantation and native forests in NSW. We manage more than two million hectares of forests for the environmental,

Seasonal Forestry Worker – Mid North Coast

Forestry Corporation of NSW (FCNSW) is the largest manager of commercial plantation and native forests in NSW. We manage more than two million hectares of forests for the economic, environmental,

Seasonal Forestry Worker - Hunter

Forestry Corporation of NSW (FCNSW) is the largest manager of commercial plantation and native forests in NSW. We manage more than two million hectares of forests for the economic, environmental,

Operations Assistant - Baradine

Forestry Corporation of NSW (FCNSW) is the largest manager of commercial plantation and native forests in NSW. We manage more than two million hectares of forests for the environmental,

Fire Planning and Administration Coordinator – Sydney/ Flexible

Forestry Corporation of NSW (FCNSW) is the largest manager of commercial plantation and native forests in NSW. We manage more than two million hectares of forests for the environmental,

Roading Coordinator - Wauchope

Forestry Corporation of NSW (FCNSW) is the largest manager of commercial plantation and native forests in NSW. We manage more than two million hectares of forests for the environmental,

Business Administration Assistant - Coffs Harbour

Forestry Corporation of NSW (FCNSW) is the largest manager of commercial plantation and native forests in NSW. We manage more than two million hectares of forests for the environmental,

Fire, Natural Hazards and Resilience Manager - Sydney (Flexible)

Forestry Corporation of NSW (FCNSW) is the largest manager of commercial plantation and native forests in NSW. We manage more than two million hectares of forests for the environmental,

Business Analyst - Flexible Location

Forestry Corporation of NSW (FCNSW) is the largest manager of commercial plantation and native forests in NSW. We manage more than two million hectares of forests for the environmental,

Seasonal Forestry Workers – Walcha

Forestry Corporation of NSW (FCNSW) is the largest manager of commercial plantation and native forests in NSW. We manage more than two million hectares of forests for the economic, environmental,

Plant Operator - Bombala

Forestry Corporation of NSW (FCNSW) is the largest manager of commercial plantation and native forests in NSW. We manage more than two million hectares of forests for the environmental,

Production Supervisor - South

Forestry Corporation of NSW (FCNSW) is the largest manager of commercial plantation and native forests in NSW. We manage more than two million hectares of forests for the economic, envi

Roading Supervisor - South

Forestry Corporation of NSW (FCNSW) is the largest manager of commercial plantation and native forests in NSW. We manage more than two million hectares of forests for the environmental,

Seasonal Firefighters

Forestry Corporation is responsible for managing over 2 million hectares of Planted and Native forests in NSW. Forestry Corporation has the responsibility to prevent and suppress bush fires in all